KLICKEN ►mehr zum Film
Ein gewaltiges »WHAO!«-Poster zu Guillermo del Toros epischem SciFi-Actioner
Pacific Rim
frisch von der Comic Con:
---
---
Die Welt steht am Abgrund: eine Legion gigantischer außerirdischer Monster, die Kaiju, hat sich aus den Tiefen der Meere erhoben und der Menschheit einen Krieg erklärt, der aussichtsloser nicht scheinen könnte. Für die Menschen versteht sich. Die senden wiederum riesige Kampfroboter aus, die sogenannten Jaeger, die simultan von zwei über eine neurale Brücke verbundene Piloten gesteuert werden. Doch selbst die mächtigen Maschinen erweisen sich als nahezu nutzlos gegen die unbarmherzigen Kaiju. Im Angesicht der Niederlage wendet sich die Menschheit an ein ungewöhnliches Heldengespann: den heruntergekommenen Ex-Jaeger-Piloten Raleigh Antrobus und den weiblichen Neuling Mako Mori. Zusammen sollen sie ein legendäres, aber überalteres Jaeger-Modell in die entscheidende Schlacht führen…
---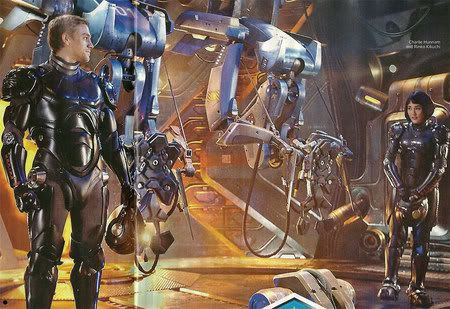 ---
Pacific Rim
klingt einigermaßen abgefahren, somemwhat like
Power Rangers
meets
Sabre Rider and the Star Sheriffs
, und wird mit seinen Roboter vs. Aliens-Fights im Gigantenmaßstab wahrscheinlich derbst rocken. Dazu passt natürlich
Sons of Anarchy
-Hauptdarsteller Charlie Hunnam, der zusammen mit Rinko Kikuchi humanity's last stand bildet, außerdem sind
Idris Elba
, selbstverständlich Del Toro-Urgestein Ron Perlman und Charlie Day dabei.
Pacific Rim ist in den USA für einen Start im Juli 2013 terminiert.
Liken/Teilen