KLICKEN ►mehr zum Film
Die beiden besten und tödlichsten Agenten der CIA sind außerdem unzertrennliche Partner und beste Freunde – bis sie feststellen, dass sie die selbe, nicht gerade entschlussfreudige Frau daten. Was macht man in so einer Situation? Natürlich alle Mittel nutzen, die einem als Agent so zur Verfügung stehen, um den anderen auszustechen. This means war!
---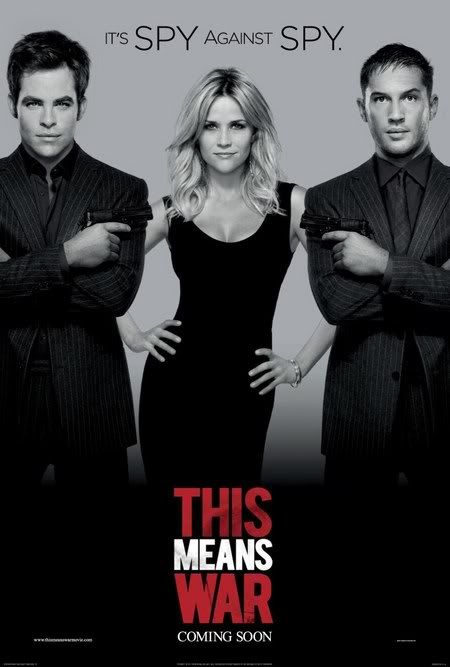 ---
Booyah, Capt'n Kirk vs. Bane! In
This Means War
gehen sich Chris Pine (
Star Trek
) und Tom Hardy (
The Dark Knight Rises
) gegenseitig an die Gurgel und sonstwohin, was bei zwei so sympathischen Typen gute Unterhaltung verspricht und über weite Strecken des
hier zu besichtigenden Trailers
auch so aussieht. ABER: denkt man an die schwankende Qualität actionlastiger RomComs aus dem vergangenen Jahr (mit dem absoluten Jahrestiefpunkt
Kiss & Kill
) UND bedenkt man, dass
This Means War
den Händen McG's (
Terminator Salvation
,
3 Engel für Charlie
) entspringt UND wenn man Reese Witherspoon lieber in Rollen wie in
Walk the Line
statt in solchen wie in
Woher weißt du, dass es Liebe ist?
sieht UND wenn man auf der Besetzungsliste Til Schweiger entdeckt… Nun ja, dann ist wohl Skepsis angesagt… Die beseitigen auch Poster und Bilder erstmal nicht.
---
---
Liken/Teilen